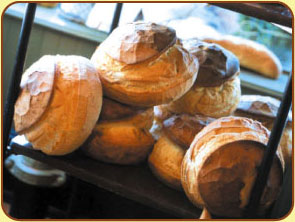 French Bread
Cylindrical in shape, the famous "baguette" is made from a hard-wheat bread flour baked to a characteristically golden color - crusty on the outside and airy on the inside - the perfect "daily" bread. Choose from: baguette, parisienne, demi, ficelle, and epi.

Ciabatta Bread An ancient bread, pure and simple in taste and form. Only the most basic elements are used to make this distinctly crunchy bread that complements the richest of meals. Choose from: plain, green olive, and organic.

Sourdough Bread
Coarse-textured and chewy, this bread is world renowned for its delicate sour flavor derived from naturally-fermented flour and water-wonderful alone or paired with soup and other hearty meals. Choose from: boule and batard.

Country Bread
A combination of organic flours are used to produce this rustic, thick-crusted, flour-dusted, peasant bread. Wonderful things happen when our master baker adds herbs or a variety of sweet or savory ingredients to enhance the flavor of this already impressive-tasting bread. Choose from: boule, batard, and rustic.

Multi-Grain Bread
An old-fashioned, crunchy, and deliciously nutty-tasting bread made with whole wheat and unbleached flours, rolled oats, flax, sesame and sunflower seeds - delicious topped with an herb-infused butter or a sweet marmalade. Choose from: boule, batard, and Pullman.

Rye Bread
Stone-ground rye and unbleached flour make this bread simple yet substantial in both weight and flavor - great for meat-filled sandwiches or eaten plain with soup and salad.

Whole Wheat Bread
This bread stands alone for its wholesomeness and nutritional value. A versatile bread - it can be successfully paired with both sweet and savory toppings to compliment any meal of the day. Choose from: whole wheat batard.

Focaccia
(and other olive oil-infused breads) A crusty, golden-brown, yeast risen bread that has been flattened and dimpled by nimble hands to hold the essence of olive oil, fresh herbs and tomatoes topped with a sprinkling of coarse sea salt - a wonderful taste sensation.

Challah
A four-strand braid of sweet bread, this fine-crumbled, egg-rich loaf is made in European tradition either with or without raisins.

Specialty Breads
Breads that are identifiably different in shape and size, rustic and not so rustic, sweet and savory-filled - some of which are made daily or just on weekends and also comprise our "Bread of the Week" category.

Croissant
This butter-filled triangle of dough, rolled into a crescent, yields a flaky pastry that is everyone's favorite. Choose from: plain, walnut, chocolate, raisin, almond, and fruit pinwheel.

Brioche
Rich with eggs, butter and sugar-glazed and baked to a golden sheen-this fine-crumbled, yeast-leavened bread is famous for its delicate flavor and versatility. Choose from: plain, sugar-coated, chocolate, raisin, cream-filled, cheese/fruit filled.

Danish
A combination of brioche and croissant dough, the Danish is butter-flaky and egg-rich in flavor and texture - a delicate yeast leavened pastry traditionally filled with pastry cream, nuts, fruit, cheese, or chocolate - they make a perfect breakfast, brunch or dessert treat.

Cookies & Tarts
Old fashioned favorites like oatmeal-raisin & chocolate chip cookies, almond macaroons and brownies are always made each and every day to ensure freshness and that homemade taste. Tarts, the French version of American pies, are also made daily and are comprised of a delicate, butter crust filled with (but not limited to) pastry cream, fresh berries, chocolate, nuts, lemon, and almond frangipane.