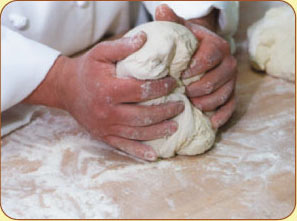 People who visit our store often ask us
what the word "artisan" means at the
Witherspoon Bread Company.

We explain that we use the best and most natural ingredients that are available to us, including organic flour. We then add wonderful flavor to our breads by using prefermented dough as starters and allow the dough to rise slowly, unlike the production of commercial breads. Another "artisan" quality we employ is the shaping of our breads by hand, which gives the bread that rustic, craftsman-style look that is reminiscent of bread made generations ago. And finally, we bake our bread in a stone-hearth oven that gives each loaf the color and crustiness long associated with old-world style "artisan" breads of Europe.

The painstakingly long and laborious process of baking is well worth the effort - for us, because we enjoy reviving the craft of producing old-world style breads - and for our customers because they especially enjoy the superior flavor and crunchiness they have all come to expect from the breads at The Witherspoon Bread Company. We pride ourselves on the fact that each loaf looks uniquely different from one another because they were touched by experienced hands - not machines.